The Method of the day for Survivalists:
If you really want to get your hands on 16,000 projects, then you should grab it right now.
Read More »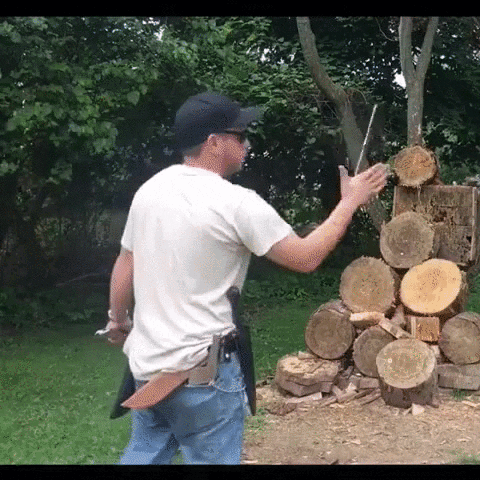 Whether you're a beginner, or a little more advanced you'll find the knife throwing techniques in this video absolutely work.
People who have been throwing knives of different shapes, and sizes for only a few days can get them to stick every time from what they learn here.
 How to Throw A Combat Knife With No Spin So It Sticks Every Time
In this knife throwing video, Ralph Thorn shows you a no-spin throwing style that cuts through the myth and hokum to show that there's no mystery or complexity to knife throwing. 
All you need are a few knives, a target, and some practice. So watch the video now and you'll know how to throw a knife like a pro in no time. Be sure to see the knife throwing article below the video.
——————
A Ninjas Guide To Throwing A Knife Like a Pro –
By Kevin M. K.
To throw a knife like a professional, you need proper instruction and lots of practice. The fundamental throwing movement for hurling a knife is uncomplicated. By getting accustomed to the technicalities of the throw, you can reiterate them on a constantly for being pro in this art. Striking a target with perfect accuracy needs several thousand reiterations.
To throw a throwing knife like a pro, you will need to follow some instructions as given below:
1- At first, hold the knife on the tip side to be fixed between the thumb and index finger. The tip should be pointed at the palm. That is if you are utilizing a pointed knife without sharpened edges. In case, if an edge is sharp then glide the blade along your palm and grasp it with your thumb and two fingers. Always avoid the double edged knives as they will scratch you.
2- Stand with your shoulders upright making a foot a step advance from the other one. If you are going to throw with your left hand, step your right foot ahead and reverse the case if you are going to throw with your right hand.
3- Position both your arms at the goal and stick the eyes on the striking point.
4- Lift your throwing arm leisurely straight upward and then move it rearward so that the knife is at the back of your head.
5- Snap the throwing knife forward speedily. As you move your arm down instantly, swing your weight from the back foot to the front foot.
6- Maintain your wrist in a straight line and your shoulder immobile all through the knife throwing motion. Just one arm should be in motion.
7- Liberate the knife when it contacts the discharge point.
8- Trail through. Carry on stirring the throwing arm next to the unchanged path after you liberate the knife. It will assist it link to the target.
A final note, when practicing throwing knives, be sure to use different blades. Once you master one throwing knife, switch to a different one. With enough time, you will be able to pick up a random blade and be able to throw it perfectly without a thought. You will have created muscle memory.
Kevin Kooistra is the chief editor of Martial Art Supply's article publishing and blog content. We strive to have accurate, straight forward, and relevant information on the subject of martial arts.
To see more article and information on Martial Arts, please visit: Martial Arts Supplies and Kage Ninja Gear
Article Source: http://EzineArticles.com/?expert=Kevin_M._K.
⚒ Freebies - Guides - Methods ⚒
You will finally know how the professionals build and design woodworking furniture and crafts
Read More →
📭 Emails I sent with methods & tips:
Howdy… It's Jason here and one of the 'must have' items for your bug out bag is strong adhesive tape, either Gorilla tape or Duck
Read the short method →
Howdy… it's Jason here and if you get bitten by a bug, then here's an easy, and highly effective way, to sooth the pain if
Read the short method →
Howdy… Jason here and one of the vital items for your bug out bag are water purifying tablets. They are ideal when you don't have
Read the short method →
Howdy… Jason here and imagine you are stranded in the wilderness without even a compass. How do you find your direction – particularly when it's
Read the short method →
T/h eat_squids |  Here's how to field strip (take apart) a Ruger 10/22 rifle for cleaning. Here are the few tools you'll need: Flat screwdriver Small thin
→ Read More
T/h Not-Dead Undead |  Fire Tubes, my straw survival hack is back by popular demand with upgrades. Yes, compartments! After rigorous testing and many cold beers I
→ Read More
T/h SniperWillette |  This instructable is going to show how to make a gun sling out of 550 paracord. This is my first instructable please leave some
→ Read More
Parabolic dish solar cookers can cost you anywhere from $250 to $400. So why pay that when you can make one for around $9? This
→ Read More
Imagine growing 6,000 pounds of fresh food on a tenth of an acre. Well, one family has done just that! In their tenth of an
→ Read More
T/h Boreal House |  Birch bark is a lovely material that can be woven, folded, and lashed into a great variety of projects. If done mindfully, birch
→ Read More